FIRM INFORMATION
Home
About Us
Contact Us
Testimonials
PRACTICE AREAS
MOTOR VEHICLE ACCIDENTS
Car Accidents
Motorcycle Accidents
Truck Accidents
Bus Accidents
Bicycle Accidents
Train Accidents
Pedestrian Accidents
Fatal Accidents
Rear End Accidents
Head on Collisions
Side Impact Collisions
Rollover Accidents
Intersection Accidents
Road Design and Defects
Negligence
Uninsured Motorists
WRONGFUL DEATH
BRAIN AND SPINAL CORD
Spinal Injury
Brain Injury
Head Injury
Paralysis / Paraplegia
BURN INJURIES
ELECTRIC SHOCK INJURIES
PREMISES LIABILITY
Slip and Fall, Trip and Fall
Other Premises Liability
DEFECTIVE PRODUCTS
DOG BITE INJURIES
OTHER SERIOUS INJURIES
SETTLEMENTS
TRUCK ACCIDENTS ARE NOT THE SAME AS CAR ACCIDENTS: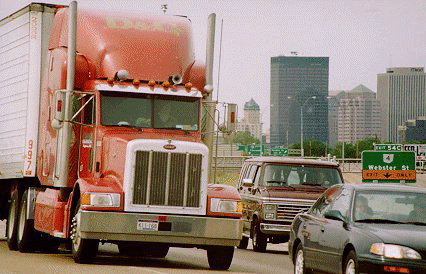 Several important legal considerations come into play when you are involved in an accident with a commercial truck, such as a tractor-trailer. Most of these simply don't apply to the more common cases of accidents with other vehicles.

Trucking companies are extremely active in trying to limit your access to any cash recovery when you were injured due to due to negligence of one of their drivers or agents. They get involved very early, sometimes right from the accident scene, trying to limit the rights of injury victims. You need the advice of a competent Pennsylvania truck accident attorney as early as possible, to help you protect your rights.

In fact, many trucking companies make efforts to protect themselves at your expense way before the accident ever happens: it is built into the way they operate, and even into their business structure. For example, trucking companies sometimes set up multiple levels of vaguely interconnected corporations, so that the corporation responsible for the driver is different from the corporation responsible for the truck, and both are difficult to pin down. The party responsible for the truck may have set up leasing arrangements for that truck with several other corporations, so every truck that company operates is "owned" by a different company, or group of companies.

Only a very careful and thorough attorney, who knows how this game is played, can ever hope to discover the truly liable party. You need an attorney who is aggressive and fully aware, so that you don't end up with years of unnecessary litigation against a dummy corporation with no assets and inadequate insurance.

The employment arrangements for the liable driver may also be hidden behind layers of legal and corporate tricks. The driver may be claimed to be an independent contractor, rather than an employee or agent of any identifiable company. He may be a "leased employee" of one corporation, paid by a second corporation, insured only under the policy of a third, fourth or fifth corporation, and conveniently undocumented by the corporation whose name appears on the truck or the accident report. The patch on his uniform jacket may have one corporate name, while his paycheck bears another. You get the idea.

The law provides some protection against the worst abuses, but only if you have a skilled and vigilant attorney will you be able to rest easy as time passes, leading up to a statute of limitations after which, if the right parties are not found and named, your claim would be barred.

Again, this is the kind of problem where you need to be sure you are choosing the right attorney to get the job done, to track down all of the responsible parties and all of the available insurance coverage for the very serious injuries that frequently occur with truck accidents.

A truly skilled and alert truck accident lawyer, such as Mr. Kennedy, will also be aware that there are ways to prove the liability of a trucking company which simply don't apply in other cases. For example, there are many regulations, under both Pennsylvania law and federal law, controlling the operation of tractor trailers and other commercial vehicles on our roads.

Under the regulations of the Federal Motor Carrier Safety Administration, trucking companies are obligated by law to maintain strict standards for equipment and hours of service. These regulations require truck drivers to maintain a drivers log. Cheating on these regulations appears to be widespread in the trucking industry. It often seems that many trucking company defendants are more concerned about how to hide their non-compliance, than they are with keeping the public safe. Some companies even appear to have detailed systems in place (all of it hidden from view), just to work around, rather than comply with, the minimum legally binding rules.

An experienced litigation attorney will be able to identify which of the many state and federal rules apply, and often there are ways for us to catch the trucking companies in the act. It is entirely possible, if not likely, that the truck driver who caused your accident was driving on far less sleep than the federal regulations require. The driver's log may not show this. In fact it probably won't. But an attorney who is aware of these issues will have some tricks of his own to be sure that the whereabouts of the involved driver in the days leading up to the accident are fully known to him. No matter what the log may say, a truck driver simply cannot make three 14 hour trips in a 48 hour period and still be in compliance with the sleeping time regulations. Truck driver fatigue is regarded as a probable factor in up to 40% of truck crashes, yet this is just one of the many areas where a skilled truck accident attorney can prove the trucking company may have negligently cut corners, placing you at risk.

You need to choose a skilled truck accident lawyer, such as Timothy Kennedy, who will aggressively pursue all of the special arguments that apply to truck accident cases, to maximize your cash recovery for injuries caused by the negligence of a trucking company or its agents.


Free and Confidential Attorney Consultation:
If you have been involved in a truck accident in Pennsylvania, call Tim Kennedy immediately. All consultations are free and confidential. Call us now at 610-316-7153.



Because we do all of our work on a contingency fee basis, you will pay us no legal fees unless our work results in a cash award or settlement for you. Because of this, you do not need to pay attorneys fees out of your pocket to afford truly skilled representation. You can hire a hard-hitting and professional litigator to more than match the best attorneys the insurance companies and trucking industry may have to offer.


We Make It Convenient:
We never forget that we work for you, not the other way around. We are as easy to work with as we are to hire: with three convenient locations to meet with you: in
Broomall
, Delaware County,
Center City Philadelphia,
and in
Skippack
, Montgomery County.
Home visits

where you are

can also be arranged by appointment, so that we can serve you conveniently whether you live in
Norristown
,
West Chester
,
Bucks County
, or even in
Allentown
,
Quakertown
or
Reading
. In fact, should the need arise in the proper case, we are prepared to travel to any corner of Pennsylvania to provide competent and aggressive representation to victims of truck accident injuries. We can be "there for you" in even the literal sense when you decide to make us your law firm.
Please call us today: 610 316 7153