FIRM INFORMATION
Home
About Us
Contact Us
Testimonials
PRACTICE AREAS
MOTOR VEHICLE ACCIDENTS
Car Accidents
Motorcycle Accidents
Truck Accidents
Bus Accidents
Bicycle Accidents
Train Accidents
Pedestrian Accidents
Fatal Accidents
Rear End Accidents
Head on Collisions
Side Impact Collisions
Rollover Accidents
Intersection Accidents
Road Design and Defects
Negligence
Uninsured Motorists
WRONGFUL DEATH
BRAIN AND SPINAL CORD
Spinal Injury
Brain Injury
Head Injury
Paralysis / Paraplegia
BURN INJURIES
ELECTRIC SHOCK INJURIES
PREMISES LIABILITY
Slip and Fall, Trip and Fall
Other Premises Liability
DEFECTIVE PRODUCTS
DOG BITE INJURIES
OTHER SERIOUS INJURIES
SETTLEMENTS
Pennsylvania Bus Accidents Require an Aggressive and Knowledgeable Lawyer: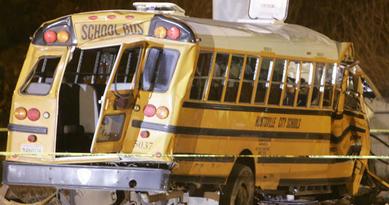 We have devoted this web page to bus accident injuries because bus accidents are a special type of case. They need to be given very special attention, quite beyond a standard accident case involving a passenger car.

What you are the victim of an accident involving a city bus or a school bus, you must act quickly to get a lawyer. In these cases, the bus driver at fault is a minor player, and the additional liable party or parties, for whom that driver may be an agent, could be your city's mass transit provider, a branch of city or local government, or a school district. Where claims against government entities are involved, you need a Pennsylvania bus accident attorney who is familiar with the legal restrictions and time restraints for claims against public entities, which include an obligation to provide early notice of the legal claim. Even a relatively short delay, if it is one day too long, could severely prejudice or bar your claim. Call Attorney Tim Kennedy today, 610 924 5667 or 215 559 5003 to make sure your claim is on track.

Bus accident statistics make it obvious that our Pennsylvania bus operators need to do a much better job to make safety a top priority. Both school districts and municipal mass transit systems are often underfunded, or poorly managed, to the point where they cut corners with the safety of their buses or the quality of their drivers. Bus accidents result from many causes, including driver negligence, defective equipment, dangerous roadways and improper maintenance. These factors can give rise to liability in the event you have been injured in an accident involving a bus.

Defendants in bus accident cases are generally very combative and skeptical of every claim, no matter how legitimate and no matter what the circumstances. This means that in a bus accident case, you need a very aggressive and very professional attorney, who will pursue your case from a position of strength, who will be scrupulously careful to collect evidence regarding the accident and your injuries, and who will package and present that evidence to the defendant insurance carrier (often an insurance administrator for a self-insured entity in these cases) in such a way that the insurance adjuster responsible for settling the case will stand up, take notice and do the right thing -- settling your case promptly and for full value.

The Law Offices of Timothy Kennedy will aggressively pursue your bus accident case to get you the recovery you deserve.


Free and Confidential Attorney Consultation:
If you have been injured in a bus accident in Pennsylvania, call Tim Kennedy immediately. All consultations are free and confidential. Call us now at 610 924 5667 or 215 559 5003.



Because we do all of our work on a contingency fee basis, you will pay us no legal fees unless our work results in a cash award or settlement for you. Because of this, you do not need to pay attorneys fees out of your pocket to afford truly skilled representation. You can hire a hard-hitting and professional litigator to more than match the best attorneys the insurance companies and trucking industry may have to offer.


We Make It Convenient:
We never forget that we work for you, not the other way around. We are as easy to work with as we are to hire: with three convenient locations to meet with you: in
Broomall
, Delaware County,
Center City Philadelphia,
and in
Skippack
, Montgomery County.
Home visits

where you are

can also be arranged by appointment, so that we can serve you conveniently whether you live in
Norristown
,
West Chester
,
Bucks County
, or even in
Allentown
,
Quakertown
or
Reading
.
Please call us today: 610 924 5667 0r 215 559 5003