FIRM INFORMATION
Home
About Us
Contact Us
Testimonials
PRACTICE AREAS
MOTOR VEHICLE ACCIDENTS
Car Accidents
Motorcycle Accidents
Truck Accidents
Bus Accidents
Bicycle Accidents
Train Accidents
Pedestrian Accidents
Fatal Accidents
Rear End Accidents
Head on Collisions
Side Impact Collisions
Rollover Accidents
Intersection Accidents
Road Design and Defects
Negligence
Uninsured Motorists
WRONGFUL DEATH
BRAIN AND SPINAL CORD INJURIES
Spinal Injury
Brain Injury
Head Injury
Paralysis / Paraplegia
BURN INJURIES
ELECTRIC SHOCK INJURIES
PREMISES LIABILITY
Slip and Fall, Trip and Fall
Other Premises Liability
DEFECTIVE PRODUCTS
DOG BITE INJURIES
OTHER SERIOUS INJURIES
SETTLEMENTS
PHILADELPHIA TRAIN ACCIDENT LAWYERS
PROTECTING YOUR RIGHTS WHEN YOU'VE BEEN INJURED

If you or a loved one has suffered an injury due to a train accident, call the Law Offices of Timothy Kennedy.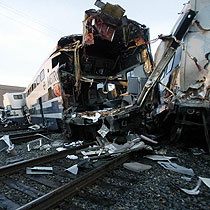 Train accidents include derailments, collisions with other trains, collisions with motor vehicles, mechanical failure and conductor negligence.

Those looking for competent and aggressive Pennsylvania train accident attorneys need look no further than the Law Offices of Timothy Kennedy. Mr. Kennedy will handle your case personally, from start to finish. He will push the railroad and insurance company lawyers for the full value settlement you deserve when you are the victim of railroad negligence.

Trains are impressive and imposing machines. When a train is inolved in a collision, the injuries are often very severe or fatal. Survivors may be left with devastating brain or spinal cord injuries. The number of fatalities arising from train vs. car collisions for the most recent year for which statistics are available was 174 deaths in the United States alone. This is a far higher death rate from such accidents than seen in any other advanced country, possibly reflecting the poor priority placed on our railroad infrastructure, the vast number of unimproved railroad crossings which force cars and trains to share intersections, and the sometimes poor performance by railroad companies who fail to abide by basic safety regulations.

Free and Confidential Attorney Consultation:
Call the Law Offices of Timothy Kennedy today. Tim will talk with you directly. He will tell you what we can do for you. All consultations are free and confidential. Call us.
We Make It Convenient for You:
Call us now for a free Train Accident consultation. We have three convenient locations to meet with you: in
Broomall
, serving all of Delaware County, including Media, Springfield, Darby, Ridley, Chester, Morton, and Clifton Heights and quickly reachable from West Chester; in Montgomery County, serving Norristown, Plymouth Meeting, Skippack and the many beautiful towns in between; and in the heart of Center City Philadelphia.


But we know that when you are hurting, even commuting to one of our three convenient locations may be difficult for you. We therefore make home visits available by appointment. Whether you live in
Norristown
,
West Chester
,
Bucks County
, or even in
Allentown
,
Quakertown
or
Reading
, we are available to meet with you and serve your needs.
Please call us today: 610 316 7153