FIRM INFORMATION
Home
About Us
Contact Us
Testimonials
PRACTICE AREAS
MOTOR VEHICLE ACCIDENTS
Car Accidents
Motorcycle Accidents
Truck Accidents
Bus Accidents
Bicycle Accidents
Train Accidents
Pedestrian Accidents
Fatal Accidents
Rear End Accidents
Head on Collisions
Side Impact Collisions
Rollover Accidents
Intersection Accidents
Road Design and Defects
Negligence
Uninsured Motorists
WRONGFUL DEATH
BRAIN AND SPINAL CORD INJURIES
Spinal Injury
Brain Injury
Head Injury
Paralysis / Paraplegia
BURN INJURIES
ELECTRIC SHOCK INJURIES
PREMISES LIABILITY
Slip and Fall, Trip and Fall
Other Premises Liability
DEFECTIVE PRODUCTS
DOG BITE INJURIES
OTHER SERIOUS INJURIES
SETTLEMENTS
PHILADELPHIA BICYCLE ACCIDENT LAWYERS
PROTECTING YOUR RIGHTS WHEN YOU'VE BEEN INJURED

Bicycling is hugely popular, both for recreation and as a commuter choice. In fact, both recreational and commuter bicycling are on the rise.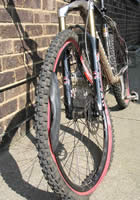 Attorney Tim Kennedy reflects: "When I was in law school, more than sixteen years ago, I lived in the Washington Square West section of Philadelphia and commuted to Rutgers Law via the high-speed line. My car would stay parked three blocks from my apartment, and I took my bike everywhere in Center City. My friends would tell me that I was taking my life in my hands. Sixteen years later, my experience as a bicycle accident lawyer tells me they were far more right than I ever realized. If I had known then how common and severe bike accidents are in Philadelphia, I would have taken my friends' warnings more seriously -- but nothing would have stopped me from enjoying biking in the city." Bicycling in an urban environment is hugely enjoyable, but it carries special risks, many of which are beyond the control of the bicyclist.

National statistics suggest that well over half a million visits to the emergency wards of our hospitals each year are due to bicycle accidents. The injuries range from cuts and abrasions to broken bones, internal injuries, head trauma and even death. In fact, bicycle accident injuries prove to be fatal in nearly 1000 cases per year. Twenty thousand bicycle accident victims per year are admitted to hospitals for extended treatment of serious injuries. Bicycle riding has a higher death rate per trip or per mile of travel than being a passenger in a car. Nine out of ten bicycle related deaths are from collisions involving motor vehicles. Despite the rise in the use of bicycle helmets, the majority of these deaths are caused by head injuries. In contrast, only one out of ten nonfatal injuries comes from a bicycle versus motor vehicle accident. The statistics prove the obvious: when a bike and a car come together, the bike loses, and the injuries are very serious and often fatal.

Bicyclists are at risk form negligent car drivers, overtired or inattentive truck drivers, poor road conditions, and many other risks.

If you or a loved one has suffered an injury due to a bicycle accident, call the Law Offices of Timothy Kennedy.

Free and Confidential Attorney Consultation:
Call the Law Offices of Timothy Kennedy today. Tim will talk with you directly. He will tell you what we can do for you. All consultations are free and confidential. Call us.
We Make It Convenient for You:
Call us now for a free Bicycle Accident consultation. We have three convenient locations to meet with you: in
Broomall
, serving all of Delaware County, including Media, Springfield, Darby, Ridley, Chester, Morton, and Clifton Heights and quickly reachable from West Chester; in Montgomery County, serving Norristown, Plymouth Meeting, Skippack and the many beautiful towns in between; and in the heart of Center City Philadelphia.


But we know that when you are hurting, even commuting to one of our three convenient locations may be difficult for you. We therefore make home visits available by appointment. Whether you live in
Norristown
,
West Chester
,
Bucks County
, or even in
Allentown
,
Quakertown
or
Reading
, we are available to meet with you and serve your needs.
Please call us today: 610 924 5667 or 215 559 5003