FIRM INFORMATION
Home
About Us
Contact Us

Testimonials
PRACTICE AREAS
MOTOR VEHICLE ACCIDENTS
Car Accidents
Motorcycle Accidents
Truck Accidents
Bus Accidents
Bicycle Accidents
Train Accidents
Pedestrian Accidents
Fatal Accidents
Rear End Accidents
Head on Collisions
Side Impact Collisions
Rollover Accidents
Intersection Accidents
Road Design and Defects
Negligence
Uninsured Motorists
WRONGFUL DEATH
BRAIN AND SPINAL CORD
Spinal Injury
Brain Injury
Head Injury
Paralysis / Paraplegia
BURN INJURIES
ELECTRIC SHOCK INJURIES
PREMISES LIABILITY
Slip and Fall, Trip and Fall
Other Premises Liability
DEFECTIVE PRODUCTS
DOG BITE INJURIES
OTHER SERIOUS INJURIES
SETTLEMENTS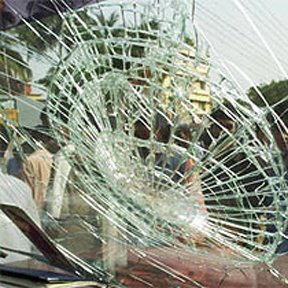 When you've been injured in a car accident, legal issues arise immediately, whether or not you have a lawyer. Insurance carriers for both drivers, or in some cases, multiple drivers, may want formal statements to determine who is at fault or who had the right of way. Questions of insurance coverage arise right at the scene, and may carry over into a legal dispute.

In fact, more than any other area of personal injury law, your rights in relation to a

motor vehicle accident

(MVA) injury in Pennsylvania will be bound up with decisions that may have been made about your insurance status long before the accident happened. Sometimes, your rights will be controlled by a decision you never had the chance to make -- such as when a spouse or family member has elected the "limited tort" option on the policy of insurance for your family car.

The Pennsylvania Motor Vehicle Financial Responsibility Law (MVFRL), the major law controlling your rights when you are injured as the driver or passenger of a car involved in an accident, is extremely complex in its application. Nearly every provision and sub-provision has been the subject of a dispute or put up for interpretation in our courts. The law has evolved from year to year, as some cases favor the rights of injury victims, while others side with insurance companies. Any attempt to explain the Pennsylvania laws applicable to car accidents here would require a huge expansion of this web site.

For these reasons, if you have been injured in a car accident, whether your injuries are serious and permanent, or may be only minor or temporary, and whether your insurance policy provides "full tort" rights or states that it is a "limited tort" policy, it is very important that you speak with an experienced Philadelphia Car Accident Lawyer to determine exactly what your rights are. Call and speak with Attorney Tim Kennedy at 610 924 5667 or 215 559 5003, right now.

When you call the Law offices of Timothy Kennedy with regard to your car accident injuries, an experienced attorney will speak with you about your specific situation and discuss your rights. Very often, even callers who have already spoken with another attorney find that we can help them, where the other attorney saw nothing but problems.

Please understand one thing, it is never good to accept a "limited tort" insurance policy. However, an experienced car accident attorney will be able to determine whether or not your claims, under the particular circumstances of your accident, might not even be affected by a "limited tort" selection.

Call the Law offices of Timothy Kennedy as soon as possible after you have been injured in a motor vehicle accident. We will immediately review your situation in detail and let you know all of the options available to you. We will then get started pushing to aggressively advance your rights to the fullest possible settlement from all appropriate parties and insurance policies.

The sooner you begin this process, the sooner you will be back on the road to the normal life you enjoyed before suffering your car accident injuries. We want to help you get there.

Call us at 610 924 5667 or 215 559 5003.