FIRM INFORMATION
Home
About Us
Contact Us
MOTOR VEHICLE ACCIDENTS
WRONGFUL DEATH
BRAIN AND SPINAL CORD INJURIES
BURN INJURIES
ELECTRIC SHOCK INJURIES
PREMISES LIABILITY
DEFECTIVE PRODUCTS
DOG BITE INJURIES
OTHER SERIOUS INJURIES
SETTLEMENTS
Disclaimer
PENNSYLVANIA HEART AND LUNG ACT LAWYERS
WHAT IS THE PENNSYLVANIA HEART AND LUNG ACT?
The Pennsylvania Heart and Lung Act is closely related to the Pennsylvania Workers Compensation Act in its application, but provides significantly more generous benefits to those who fall under its protection. It grants
full compensation
as well as
continuation of employee benefits
to eligible employees who are "injured in the performance of [their] duties." It is
not necessary
that the injury involve the heart or the lungs in any way.
WHO IS COVERED BY THE PENNSYLVANIA HEART AND LUNG ACT?
The Heart and Lung Act provides for complete wage replacement (at your full salary), plus medical expenses, for broad classes of Pennsylvania employees, specifically including the following:
State Police
Liquor Control Board Enforcement Officers
Liquor Control Board Investigators
Parole Agents
Correction Employees with Principal Duties of Care, Custody and Control of Inmates
Psychiatric Security Aides Employed by the Department of Public Welfare
Psychiatric Security Aides Employed by the Department of Corrections
Drug Enforcement Agents
All Policemen (County, City, Borough, Town or Township)
All Firemen (County, City, Borough, Town or Township)
All Park Guards (County, City, Borough, Town or Township)
Sheriffs
Deputy Sheriffs
Members of the Delaware River Port Authority Police
Special Agents of the Office of Attorney General
Note that qualification for benefits for some people in the above jobs or job classes may be dependant upon their particular work assignments, and will be further subject to dispute as to whether the injury occurred "in the performance of their duties." A competent Pennsylvania Heart and Lung Act lawyer, such as attorney Timothy Kennedy, can help you to establish your eligibility under the Act.


WHAT INJURIES QUALIFY FOR HEART AND LUNG ACT BENEFITS?
If you are employed in a covered job category in Pennsylvania and your injury occurred in the performance of your official duties, and your injury results in a temporary disability, your injury can be shown to qualify you for benefits. The injury does not have to in any way relate to your heart or to your lungs. Physical as well as psychological injuries may qualify. Repetititive strain injuries (such as Carpal Tunnel Syndrome), aggravations of prior conditions, etc., all may qualify, if you were hurt in the performance of your duties and the injury results in temporary disability.

The benefits under the Heart and Lung Act are significanltly more generous than under the Workers' Compensation Act, but not every injury qualifying you for Workers' Comp benefits will qualify you for Heart and Lung Act benefits, even if you are in an eligible job category. This is because our courts have held that not every injury that occurs "in the course and scope of your employment" (such as qualifies you for benefits under the Workers' Comp Act) truly occurs "in the performance of your duties." As you can imagine, the distinction is a very fine line. Having the advice of an experienced and knowlegeable attorney may make the difference.

There are certain pitfalls you - the injured worker - need to avoid in order to protect your rights under the Heart and Lung Act. For example, at the first mention of Heart and Lung Act benefits, your employer may tell you to go and get a doctor's note setting out your "permanent restrictions." BEWARE. The employer is acting in its own interests and is trying to damage your rights. "Permanent" injuries are EXCLUDED from coverage under the Heart and Lung Act.

Employers subject to the Heart and Lung Act frequently develop policies for handling related issues that are carefully designed to make it difficult or impossible for you to collect UNLESS you have a skilled hand to guide you through any mine-field the employer's policy may set before you. Sometimes the people applying those policies don't know the reasons behind it, but rest assured, somewhere behind the scenes there was an insurance company attorney calling the shots. Call Philadelphia area attorney Tim Kennedy. He can help you shape your rights to YOUR best advantage and keep you from making a costly mistake. You cannot trust your employer to tell you what is needed to make a claim -- more often they will tell you to do exactly the worst thing for your own rights.

Note that even many seasoned workers compensation lawyers and other personal injury attorneys are not well-versed in the ins and outs of the Heart and Lung Act -- and what they don't know could cost you thousands, or even hundreds of thousands of dollars.

Be sure the attorney you retain understands the Heart and Lung Act and how it interacts with other various laws, statutes and rights of recovery so that you come out ahead with a top dollar settlement in your pocket.


And ALWAYS talk to experienced Heart and Lung Act attorney Tim Kennedy before accepting a voluntary retirement, disability retirement or ANY kind of retirement while receiving Heart and Lung Act benefits or workers' compensation benefits. Failure to speak with a competent attorney could dramatically harm your rights.

We Make It Convenient for You:
We never forget that we work for you, not the other way around. We make it easy for you. We keep you advised of what is going on in your case, by sending you copies of every letter we send out, by calling you with updates periodically, and by promptly responding to every telephone call and e-mail we receive. We also make it easy for you with three convenient locations to meet with you: Mr. Kennedy's primary offices in
Broomall
, Delaware County, just off the Blue Route; and our two satellite offices: in
Center City Philadelphia
just one block from City Hall, convenient to Suburban Station, other mass transit and inexpensive parking; and in beautiful
Skippack
, Pennsylvania, in the heart of Montgomery County.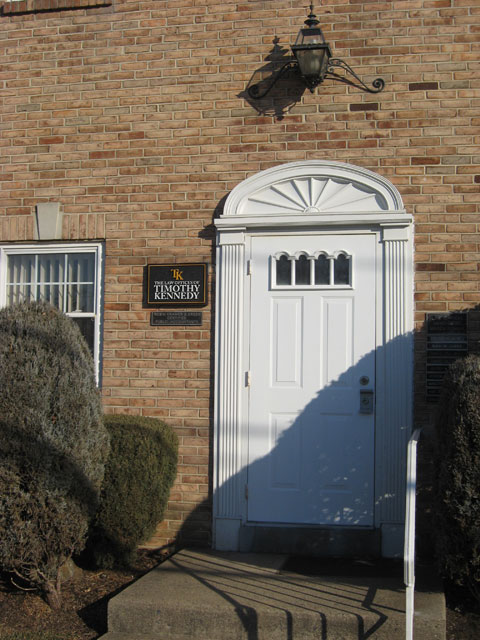 But we know that when you are hurting, particularly in the early days, weeks or months after a serious injury, even commuting to one of our three convenient locations may be difficult for you. If your injuries have forced you from the workplace or limited your earning capacity, you may also have difficulty with the expense of commuting to one of our locations. For these reasons, we are generally available to come to you, to meet in your home or another suitable location convenient to you, by appointment. Whether you live in
Norristown
,
West Chester
,
Bucks County
, or even in
Allentown
,
Quakertown
or
Reading
, the broad scope of our personal injury and workers' compensation practice frequently takes us into your area. This makes it convenient for us to agree to meet with you at a time

and place

of your choosing, when you decide to make us your law firm of choice.
These are just some of the many ways we demonstrate to our clients, every day, our commitment to serving your needs, at the same time we are aggressively representing your rights and advancing your claims.
Please call us today: 610 924 5667 or 215 559 5003.