FIRM INFORMATION
Home
About Us
Contact Us
MOTOR VEHICLE ACCIDENTS
WRONGFUL DEATH
BRAIN AND SPINAL CORD INJURIES
BURN INJURIES
ELECTRIC SHOCK INJURIES
PREMISES LIABILITY
DEFECTIVE PRODUCTS
DOG BITE INJURIES
OTHER SERIOUS INJURIES
SETTLEMENTS
Disclaimer
THE WORKERS' COMP

CARRIER IS TRYING TO STOP MY PENNSYLVANIA COMPENSATION BENEFITS

!

WHAT DO I DO?

If you have an acknowledged claim and you are receiving workers' compensation benefits, the workers' compensation insurance carrier may be very aggressive in seeking ways to cut off your benefits. In some cases, they may simply send you a "Notice Stopping Temporary Compensation" (often together with a "Notice of Workers Compensation Denial") and attempt to deny any disability relating to the work injury, even if you have already missed time and you are still disabled from your prior full duty job or you are working with restrictions or limited hours. You need to fight this. I will be in your corner.

In many other cases, the employer and insurer will send you to an "independent medical examination" with a doctor they have carefully hand-picked and whose pockets they have handsomely stuffed. When this doctor claims you are capable of returning to work, whether in your old job or in some kind of light duty, you will receive a "Notice of Ability to Return to Work". This puts you on notice that the insurance carrier has decided that you are ready to work and warns of legal consequences of not returning to work. This notice is often followed by a specific job offer from your employer for return to light duty or full duty work. Or, you might get a letter from an insurance "vocational expert" whose role will be to review your education and work history, to try to prove there are jobs generally available to you in the market place. You might even be told to apply for specific job openings, or the vocational expert might simply go back to her desk and try to list available jobs in a "labor market survey". Either way, the purpose is to give the employer evidence to cut off your compensation.

But in most cases, the insurance company cannot legally just stop paying your benefits. They must file a petition before a Judge. This would be a petition to Modify, Suspend, or Terminate benefits. These petitions nearly always include a request for "

supersedeas

" - meaning the employer and insurer expect the judge to stop your benefits NOW, if they have an "independent" medical examination report to show the Judge. The very first thing a Judge will do in your case will be to accept and review that supersedeas evidence. If the request for

supersedeas

is granted, your benefits will stop. It is therefore essential that you have an attorney representing you before this happens.

In fact, for every step taken by the insurance carrier toward its goal of cutting off your benefits, there are steps you can and should be taking to protect your own rights. You should be in contact with my office as early as possible for advice and guidance. I strongly encourage you to contact me before you appear for any "independent" medical examination scheduled by the insurance carrier. Even if you decide at that point that you do not yet need formal representation, I will be happy to speak with you. I could then be in a position to monitor your claim before your benefits are put in jeopardy in litigation with a Workers' Compensation Judge.

Call me, Tim Kennedy, at 610 924 5667 or 215 559 5003.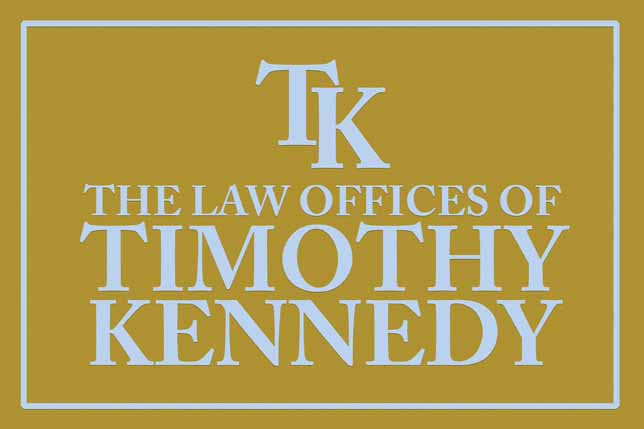 We Make It Convenient for You:
We never forget that we work for you, not the other way around. We make it easy for you. We keep you advised of what is going on in your case, by sending you copies of every letter we send out, by calling you with updates periodically, and by promptly responding to every telephone call and e-mail we receive. We also make it easy for you with two convenient locations to meet with you: Mr. Kennedy's primary offices
in
Havertown
, Delaware County, just off the Blue Route and our satellite offices in
Northeast Philadelphia/Trevose
at the Neshaminy Interplex.
But we know that when you are hurting, particularly in the early days, weeks or months after a serious injury, even commuting to one of our three convenient locations may be difficult for you. If your injuries have forced you from the workplace or limited your earning capacity, you may also have difficulty with the expense of commuting to one of our locations. For these reasons, we are generally available to come to you, to meet in your home or another suitable location convenient to you, by appointment. Whether you live in
Norristown
,
West Chester
,
Bucks County
, or even in
Allentown
,
Quakertown
or
Reading
, the broad scope of our personal injury and workers' compensation practice frequently takes us into your area. This makes it convenient for us to agree to meet with you at a time

and place

of your choosing, when you decide to make us your law firm of choice.
These are just some of the many ways we demonstrate to our clients, every day, our commitment to serving your needs, at the same time we are aggressively representing your rights and advancing your claims.
Please call us today: 610 924 5667 or 215 559 5003.